Rating percentage shows how many transactions have been rated successfully by buyers. If seller has 9 successfull and 1 unsuccessfull transactions, his rating will be 90%. Please note that no refunds will be given.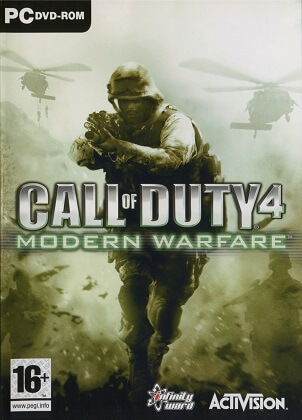 Call of Duty 4: Modern Warfare STEAM GLOBAL
Region: GLOBAL
---
1 offer(s) available:
| Seller | Price | Delivery | Type | Rating | All ratings |
| --- | --- | --- | --- | --- | --- |
| | $17.49 | Up to 24h | Steam Key | 99% | 298 |
---
Price: $0.00
The new action-thriller from the award-winning team at Infinity Ward, the creators of the Call of Duty® series, delivers the most intense and cinematic action experience ever. Call of Duty 4: Modern Warfare arms gamers with an arsenal of advanced and powerful modern day firepower and transports them to the most treacherous hotspots around the globe to take on a rogue enemy group threatening the world. As both a U.S Marine and British S.A.S. soldier fighting through an unfolding story full of twists and turns, players use sophisticated technology, superior firepower and coordinated land and air strikes on a battlefield where speed, accuracy and communication are essential to victory. The epic title also delivers an added depth of multiplayer action providing online fans an all-new community of persistence, addictive and customizable gameplay.